McKeesport's International Village℠
Since 1960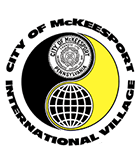 Charter participants in the first International Village—held July 6, 7 and 8, 1960—were the Greek, Polish, Ukrainian, Serbian, Hungarian, Italian, Croatian, Romanian, Irish and Jewish booths.
Menu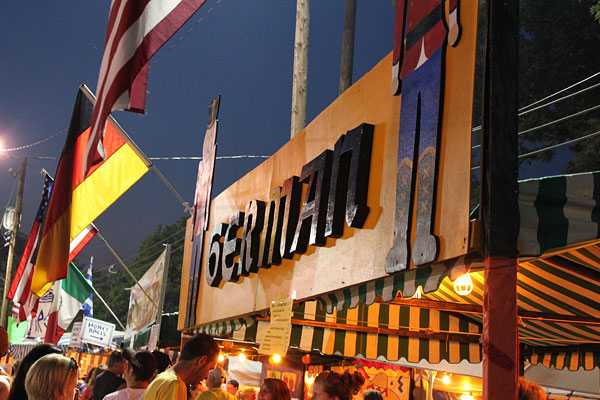 Subject to change without notice
AUSTRIA
Funnel Cakes (with or without fruit or chocolate toppings)
Corn Dogs
Soft Pretzel
Apple Strudel
Lemonade
CHINA
Chicken Skewer (with or without rice or noodles)
Shrimp Rice
General T'so Chicken with rice
Sweet & Sour Chicken with rice
Orange Chicken with rice
Egg Roll
Lemonade
CROATIA
 EGYPT
Chicken Scwharma Sandwich
Falafel Sandwich
Lamb Pie
Spinach Feta Pie
Stuffed Grape leaves
Mediterranean Salad
Corn on the cob
Baklava
Chocolate covered almond roll
Lemonade
FRANCE
Veggie Tempura
Spiral fries
Sweet potato fries
Funnel cake
lemonade
 GERMANY
Kielbasa sandwich
Knockwurst sandwich
Hot dog
Pork & sauerkraut
Spatzle
Potato pancakes
German chocolate cake
Candy apples
Soft pretzels
GHANA
Southern fried chicken dinner
BBQ Rib dinner
BBQ Rib sandwich
BBQ ribs (1/2 & whole slabs)
BBQ Pigs feet
Southern fried chicken wings
Southern tenders
Red rice
Hoppin' Johns
Corn bread
Sweet potato pie
GREECE
Super gyro
Lamb shish kabob
Pastitsio
Moussaka
Stuffed eggplant
Stuffed peppers
Stuffed grape leaves
Spanakopita
Tiropita
Spinach Strifto
Baklava
Ipirotiko
Galactobureko
Bugatsa
Kolaches
Finikia
Pecan Tassies
Kourambiethes
Chocolate Chip Cookie with brownie
Ladylocks
Coconut macaroons
Rice Pudding
Lemon cake
Kattaifi
Rizzi Trizzi
Apple Strudel
Nut Roll
Koulourakia
HAWAII
Hawaiian shave ice
Fruit smoothies
Chocolate covered cheesecake
Pulled pork sandwich
Pig wings
Hawaiian chicken sandwich
Giant fish sandwich
Clam strips
Hush puppies
Coconut shrimp
Deep fried cheesecake
Grilled pineapple
Chocolate covered strawberries
HUNGARY
Chicken & dumplings
Cabbage & noodles
Kolbasz sandwich
Stuffed cabbage
Bacon bread
Palascinta
Kiffles
Csoroge
Tassies
Thumbprints
Puff Pastries
Apple squares
Triple decker squares
Apricot roll
Nut roll
Poppyseed roll
Hungarian donuts
Cheese pockets
ITALY
Rigatoni
Gnocchi
Hot sausage sandwich
meatball sandwich
Pizza
Lady locks
Pizzelles
KENYA
Southern fried wing dings
BBQ wing dings
Thai wing dings
Jamaican jack wing dings
Hawaiian Habanera wing dings
Kenyian wing dings
Teriyaki wing dings
fries
peach cobbler
apple cobbler
LEBANON
Gyro sandwich
Falafel sandwich
Baked kibbee
Stuffed grape leaves
Spinach pie
Meat pie
Hummous dip
Baba gannouj dip
Tabbouleh salad
Baklava
Apricot roll
Lemonade
MEXICO
Burrito
Big Burrito
Chicken Fajita
Nachos
Nachos Supreme
Quesadillas (chicken or beef)
Spanish rice
Stuffed hot pepper
Taco
Taco salad
Taco salad with chicken
Churro
Fried Ice Cream
PHILIPPINES
Spring roll with meat & veggie
Spring roll with veggie
Edd roll with veggie lettuce wrap
Grilled chicken
Papaya relish
Stir fried noodles (with veggies
chicken or beef)
Steamed jasmine rice
Fried rice
Chicken with rice
Pork with rice
Baked beef turnover
Banana wraps
Mango cheesecake
Leche flan
Sweet rice cake
Shaved ice with fruit
Floated rice cake
Cantaloupe
Lemonade
POLAND
Potato pierogi
Stuffed cabbage
Haluski
Kielbasa sandwich
Stuffed cabbage sandwich
Stada babba stew
Lazy man pierogi
Potato pancakes
SERBIA
Lamb sandwich
Hot sausage sandwich
Kolbasa sandwich
Haluski
Apple strudel
Palachinka
Bean & sauerkraut soup
Hot dog
SLOVAKIA
Stuffed cabbage
pierogies (potato cheese
Sauerkraut
Sweet cabbage
Lekvar)
halushki
applesauce
Funnel cake
Ceregi
Nut roll
SWEDEN
Apple dumplings (with or without ice cream
Waffle ice cream cones
Hot fudge or carmel sundae
TURKEY
Split gyro
Baklava
Sobiyet
Feta cheese stick
Grape leaves
Hummus
Pocket gyro
Su boregi
VIETNAM
Chicken on a stick (with rice or noodles)
Shrimp rice
Veggie rice or noodles
Spring roll
Lemonade
"International Village" logo created by Marie Race and TM City of McKeesport, all rights reserved. Photos donated by Denise L. Ritter.