McKeesport's International Village℠
since 1960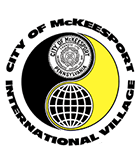 Aug. 11, 12, and 13, 2015
3 to 10 p.m.
Featuring the foods, music and traditions of nationalities, cultures and regions including Africa, Asia, Europe and the Americas
Admission: $2
Live video stream (when available) from Renziehausen Park is provided by Tube City Community Media Inc. (The City of McKeesport and International Village Committee are not responsible for webcast content.)
We'll see you at the Village!

One of the Pittsburgh area's
oldest and largest ethnic festivals!
Founded in 1960, International Village in McKeesport, Pa., is a three-day celebration of our shared traditions and heritage, including food, music, dancing, traditional clothing and crafts.
Food, Dancing and Live Music
Each year, you'll find more than a dozen booths selling freshly-made ethnic foods from around the world, continuous live entertainment, live music for dancing, crafts, community information and games. New this year are short educational sessions about world cultures, presented by the same organizations whose food booths—each representing a different nationality or culture—have been a Pittsburgh-area tradition for more than a half-century.
Run by Volunteers, Enjoyed by Thousands
International Village is entirely run by volunteers, including many of the ethnic churches, temples and social organizations in the McKeesport region. It annually draws more than 20,000 people to McKeesport's historic Renziehausen Park, home to many other attractions, including an extensive walking/fitness trail, a heritage museum and Pennsylvania's second-largest rose garden.
Close to You
McKeesport's International Village℠ is about 20 minutes' driving time from Pittsburgh and less than one hour from most of Western Pennsylvania, easily reached via U.S. Route 30, Pennsylvania Route 48, the Pennsylvania Turnpike and I-376 (the Parkway East). Click for driving directions.
Plan to join us for an evening of food, live entertainment, dancing and traditional crafts!
"International Village" logo created by Marie Race and TM City of McKeesport, all rights reserved. Photos donated by Denise L. Ritter. McKeesport's International Village℠ is a service mark of the City of McKeesport for an annual ethnic festival.